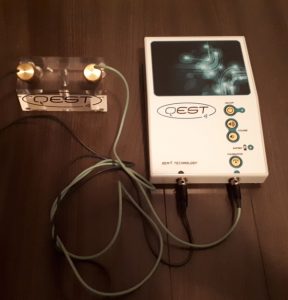 Bioenergetic Medicine in your own hands!
This type of screening is called MSA (Meridian Stress Analysis). In the early 1950's Dr Voll developed this technology to address more causational issues verses treating the symptom. Dr. Voll originally invented all the heart monitoring equipment in hospitals around the world.
Based on Chinese acupuncture there are energy channels mapped out in our body. Balancing the energy pathways will create healthy organs, glands, and body symptoms.
By balancing the energy in the meridians this will give the body what it needs to heal itself. MSA is a computerized version of Dr Voll's work. It looks for unhealthy energy patterns and finds the frequencies to balance the body.
The Qest 4 will evaluate the organs, glands and the systems of the body finding what is stressed and weakened within the body. Based on the energetic frequencies chosen by the body, we have a very good idea if what is affecting the body.
You can watch this video for an introduction to the Qest 4
What is homeopathics?
Homeopathy is a medical system based on the belief that the body can cure itself. Those who practice it use tiny amounts of natural substances, like plants and minerals. They believe these stimulate the healing process. A basic belief behind homeopathy is "like cures like." In other words, something that brings on symptoms in a healthy person can — in a very small dose — treat an illness with similar symptoms. This is meant to trigger the body's natural defenses.
Homeopathic doctors (who also are called "homeopaths") weaken these ingredients by adding water or alcohol. Then they shake the mixture as part of a process called "potentization." They believe this step transfers the healing essence. Homeopaths also believe that the lower the dose, the more powerful the medicine. The homeopathics that we make are liquid form.
The Qest 4 will heal at a cellular level. It will rejuvenate the body to heal layer by layer. Every body is an individual and every body is different. So we have to treat each person as a individual. We make homeopathics and then add the frequencies and vibrations along with the homepathics to help bring your body into homeostasis (teaching your body to heal itself). Depending on how deep your illness lies, the root cause will depend on how many treatments one will require. We test then usually retest 6 to 8 weeks after and continue until one is feeling their best. At this point you may come for maintenance to keep your body at optimum health. When going thru the protocol for Qest 4 testing you may experience your body detoxing. If you do experience this you will just cut down the drops and supplements that are recommended and slowly build up the drops so that the detox effects are less or nonexistent. Also along with a complete Qest 4 testing we do food sensitivity testing. This test will list all the foods that you must stay away from for either 3 – 6 weeks usually, then you can start to add these foods back in slowly to ensure that your body will have no reactions to it. Every time someone comes for a complete Qest 4 test you will also be tested for your food sensitivities. Our food sensitivities will always be changing. If we continue to eat foods or drink that we are sensitive to this will cause inflammation in our body which will cause disease.
The Qest 4 is also able to test product that you already have in your home to see if it is working for you. Bring in your products and we can ensure what you do purchase is beneficial to your body.
The Qest 4 will let us know what your body is deficient in and will prescribe what supplements you need to heal the body.
On the first treatment a full report will also be given describing in detail what areas of the body needs attention to heal.
In today's world we are innovated by pollution in our environment, foods, and water. It is essential that we detoxify the body to keep healthy. Depression and other mental illness, digestive health, many diseases such as cancer, diabetes, heart health etc. is prevalent in our society. I feel if we do not take control of our own health and are knowledgeable of what is available to help us achieve health, we may be in trouble down the road.
With the Qest 4 we are also able to test with your DNA. If you are unable to come for testing, or live far away I can test you with you giving me a sample of your hair and a nail. I can make the 3 bottles of drops and then let you know what supplements your body requires for healing. I can then mail out the product to where ever you are living. If this is something that interests you please let me know and I will tell you what you need to do.
Knowledge is power!
To book an appointment please contact Rose Gawlak @ 780-945-0395 or rosesremedies@gmail.com
Cost and procedure:
Full Qest 4 test: Procedure is 2 ½ to 3 hours long. Cost is $120.00 plus GST. For limited time offer cost will be $90.00 plus GST.
Every other testing after that is $60.00 plus GST.
You will be given 3 different homeopathic remedies with your frequencies and energies in it. A multi vitamin, and other herbs will be prescribed as well if needed by the body.
For Food sensitivity list and to test 10 of your own products to see if they are working for you cost is $50.00 plus GST.
For 1 hour of testing all your supplements and or medications the cost is $40.00 plus GST.
Take control of your body and heal the root cause of all illness!