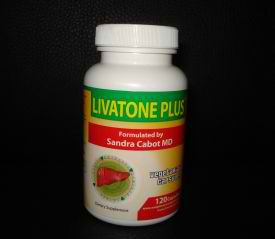 Livatone Plus is a powerful formula for metabolic problems or dysfunctions of the liver.
Livatone Plus is beneficial for the following conditions:
Poor detoxification capability in the liver. These people often have multiple chemical, drug and food sensitivities. They may have been exposed to liver toxins. These people often have Chronic Fatigue Syndrome.
Those who work in high risk occupations which expose them to a high load of potential liver toxins. For example: painters, hair dressers, welders, motor mechanics agricultural workers, foundry workers, plumbers, those in the dry cleaning industry, and some factory workers. If such workers support the liver with protective supplements they will reduce the risk of liver damage. Safe work practices are also of vital importance to minimize risk of contact exposure.
Chronic headaches(including migraines) associated with nausea.
Those with skin problems such as inflammatory rashes, itchy skin, and brown liver spots.
Those with unstable blood sugar levels such as hypoglycaemia. Type II diabetes is often associated with obesity and a fatty liver. Livatone Plus helps to stabalize blood sugar levels and makes it much easier to resist sugar cravings and stick to a healthy diet.
Liver damage from: Viral infections of the liver with hepatitis A,B,and C. Glandular fever and other chronic viral infections that attack the liver.
Liver inflammation (hepatitis) from toxins, alcohol excess, recreational drugs, analgesic excess and drug induced hepatitis.
Autoimmune liver diseases such as Sclerosing Cholangitis,Primary Biliary Cirrohosis, Chronic Active Hepatitis or connective tissue disease.
Fatty liver induced by incorrect diet, alcohol, or diabetes.
Cirrhosis(scarring) of the liver from multiple causes.

– Nodular hyperplasia of the liver.

– Liver cyst

– Gallbladder dysfunction and gallstones
Livatone Plus can be taken long term, for they are all natural products and free of side effects. Just before meals take 2 capsules twice daily with water. After taking Livatone Plus for 2-3 months you can go onto a maintenance dose which is two capsules daily. This can be taken indefinitely if you so desire. When starting Livatone  Plus it is important to begin with a reduced dose to avoid any strong reactions. This can occur because your liver is eliminating toxins rapidly for the first time in years.
Supplement Ingredients:
Serving Size: 2 Capsules
Vitamin C (as ascorbic acid)…………………..105 mg
Natural E (as d-alpha tocopherol succinate….200 IU
Vitamin B1 (as thiamine)………………………..11 mg
Vitamin B2 (as riboflavin)………………………..11mg
Vitamin B3 (as niacin,niacinamide)…………….11 mg
Vitamin B6 (as pyridoxine)……………………..11 mg
Folic Acid…………………………………………240 mcg
Vitamin B12 (as cyanocobalamin)…………….60 mcg
Biotin………………………………………………60 mcg
Vitamin B5 (as d-calcium pantothenate)…..27.5 mg
Zinc (as zinc oxide)………………………………..7 mg
Selenium (as selenomethionine)………………50 mcg
Milk Thistle (Silybum marianum)(seed)……262.5 mg
Silimarin…………………………………………..210 mg
Livatone Plus @ Nutritive Base……………….370 mg
Taurine; Phosphatidylcholine from Soya Lecithin, Broccoli Powder; (Brassica oleracea) (flower); L-Cysteine HCI; L-Glutamine; Glycine; Inositol; natural Carotenenoids, Green Tea Leaf Extract (Camelia sinensis) (leaf); L-Glutathione.
Other Ingredients:Hypromellose; magnesium Stearate, Silicon Dioxide.
Cost
Livatone Plus (120 Caps)
$39 plus GST
Please contact Rose Gawlak @ 780-945-0395 or  Rosesremedies@gmail.com to purchase product.
Prices for product are subject to change without notice due to US dollar, shipping, customs etc.
IMPORTANT DISCLAIMER:
Our supplements are not drugs and are not intended to treat, cure or prevent a disease or injury. The information appearing on this website is not intended to be a substitute for professional medical advice. Results may vary. Please consult your physician for a complete list of indications, warnings, precautions, adverse events, clinical results, and other important medical information. You should not use this information to diagnose or treat a health problem, injury or disease without consulting with a qualified healthcare provider..