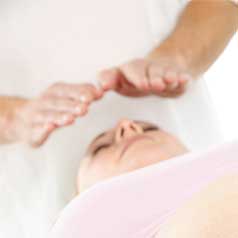 Reconnective Healing is a unique vibrational energy that was introduced to Dr. Eric Pearl in 1993.  Soon after the discovery of this new found vibrational energy he found that his patients started to experience miraculous healings ranging from emotional to physical.  In the following 2 to 3 years he started to teach people how to use this new found vibrational energy, just like other energy modalities that came before such as Reiki & Qi Gong.  Unlike other energy modalities Reconnective Healing has a much broader bandwidth of frequency that works more effectively with the dysfunction within the body, assisting the person in their own healing process.
Each sessions can last anywhere from 30 to 45 minutes.  The client lies on a massage table fully clothed and the healing is touch free unlike Reiki & some other energy modalities.  To make sure that the healing is reinforced it is recommended to have anywhere from 2 to 3 sessions.   With each session the client experiences something different and unique.  The energy that the client receives will act on the body, physically, emotionally, mentally and spiritually.  Healing can take many forms.  It can be very obvious from physical symptoms disappearing to being so subtle that we may not recognize them until months later.  It may help to give a greater insight and provide clarity to a troublesome issue or improving relationships by evolving past emotional hurdles.  It may also give the client a renewed sense of adventure & more clarity to what their life path should be.  The practitioner cannot guarantee any outcome as the healing as the healing comes from a higher source. 
If you're interested in some scientific information regarding Reconnective Healing please go to:
http://www.thereconnection.com/science-and-research/.
Please contact Rose Gawlak @ 780-945-0395 or rosesremedies@gmail.com to purchase product.
Cost
$45 plus tax