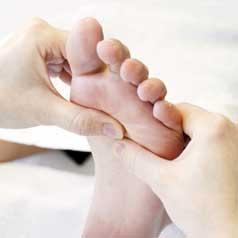 Reflexology works on the principle that there are reflexes in the feet and hands that correspond to all the body's organs. By applying pressure to these points you enable the body to heal itself.
Each foot has 7000 nerve endings, 126 bones, 107 ligaments and 19 muscles. Reflexologists can release blockages and restore the free flow of energy to the whole body.
Reflexology improves circulation, elimination, and tensions are eased. Reflexology is suitable for acute and chronic conditions, stress related conditions, sleep disorders, and preventative therapy.
Treat yourself and give me and book an appointment. Each session lasts about 1 hour.
Please contact Rose Gawlak @ 780-945-0395 or rosesremedies@gmail.com to purchase product.
Cost
$55 plus tax per treatment