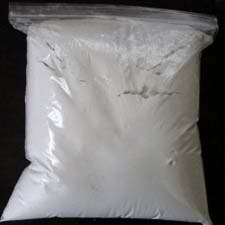 Diatomacous Earth is 89% Silica, the rest is clay. Most people are silica deficient. Silica plays an important role in many bodily functions and has a direct relationship to mineral absorption. There are many reported health benefits of Diatomacous Earth. It is said to be:
A natural organic colon cleanser and detoxifier.

It detox's methyl mercury, e. Coli, viruses, organophosphate pesticide residue, heavy metals and radiation.

Can help to slow down the degenerative process of connective tissue.

Collagen is largely made up of silica. Silica is the glue that holds us together. If our body has enough silica glucosaminoglycane, the collagen will make us look younger.

By hardening the enamel on our teeth silica prevents cavities and preserves teeth.

Silica is responsible for the depositing of minerals into the bones, especially calcium. It is said to speed up healing of fractures and also reduce scarring at the site of the fracture. Research evidence shows that silica is turned into calcium when needed.

Silica is a major component of hair. It can prevent baldness, stimulate healthier hair growth and assures beautiful shine, luster and strength.

DE taken in the morning may curb appetite throughout the day.

Silica stimulates metabolism for higher energy levels.

Silica lowers bad cholesterol and raises good.


DE has been reported to lower high blood pressure.
Many people benefit from taking 1 tablespoon of DE per day. Mix in water, juice, or any liquid you like. Some find it better to start with a small amount and build up to 1 tablespoon per day. Best to take on an empty stomach, first thing in the morning ½ hour to 1 hour before breakfast.
Approximately 400 grams $20 + GST
Please contact Rose Gawlak @ 780-945-0395 or Rosesremedies@gmail.com to purchase product.
Prices for product are subject to change without notice due to US dollar, shipping, customs etc.
IMPORTANT DISCLAIMER:
Our supplements are not drugs and are not intended to treat, cure or prevent a disease or injury. The information appearing on this website is not intended to be a substitute for professional medical advice. Results may vary. Please consult your physician for a complete list of indications, warnings, precautions, adverse events, clinical results, and other important medical information. You should not use this information to diagnose or treat a health problem, injury or disease without consulting with a qualified healthcare provider..