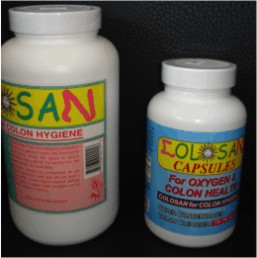 Colosan is important for many functions of the colon.  The colon is 5 to 6 feet long.  The walls are reasonably smooth and is primarily an organ of elimination. If the colon is clogged with mucous and fecal matter, the function of elimination is impaired. Many practitioners recommend health regimens that involve the detoxification of the liver, kidneys, bloodstream, and lymphs.  However if the colon is not cleaned first, these systems have no where to empty to.
The small intestines are approximately twenty feet long. Nature designed them with a maximum amount of surface area for absorption. The inside of the intestines consist of villi. These are hundreds of finger-like projections. When the villi get pasted down with mucous and impacted material they are less able to absorb nutrients from food or get maximum benefits from your supplementation. Instead you are reabsorbing toxins from the impacted material as it ferments.
You can get Colosan which comes in either a powder or capsules. The powder is oxygen bonded to magnesium.  Typically, when a person gets their first jar of colosan, they can take it two to three times a day for a week or two, for an initial cleanse. It is important for colosan to be taken on an empty stomach, one hour before eating. Take one heaping teaspoon stirred into a 12 oz glass of water. Immediately follow with the juice of half a lemon, or one ounce of apple cider vinegar.  The lemon juice assists the hydrochloric acid in your stomach to cause colosan to release oxygen.
For the use of Colosan capsules, take six capsules with eight ounce glass of water two to three times a day for one to two weeks for a thorough cleanse.   Daily you can take one or two capsules daily as a stool  softner.
Healthy people use colosan  to keep their colon clean. It is often the first thing to resort to if you are dragging, not feeling well or sense a bug coming on.
Heavy people take colosan to remove build up,  weight loss, and release excess fluids which helps reduce bloating. When you clear the colon of impacted matter, the liver and lymph drain – it's not weight loss but waste loss. The average person can have six to twelve pounds of fecal matter in the colon.  When you cleanse the colon, cravings of sugar, carbs, fat, alcohol etc. go away.
Yeast sufferers say that it helps with relief of bouts of severe yeast. Colosan dissolves the crud that the yeast is growing in and creates an aerobic environment where beneficial flora can thrive and keep candida in check.
Many practitioners recommend colosan as a first step to detox and cleansing. It is important to cleanse the colon prior to detoxifying the body.
Colon Hydrotherapists love colosan because it enables them to clean the entire digestive tract as well as loosening the impacted material in the colon. By giving colosan prior to clients receiving colon hydrotherapy, they receive a more effective treatment. The combination of Colonics and Colosan is a great approach for those who take colon health seriously.
Cost

120 Caps.
$45 plus tax
Powder (200 grams)
$45 plus tax
Please contact Rose Gawlak @ 780-945-0395 or  Rosesremedies@gmail.com to purchase product.
Prices for product are subject to change without notice due to US dollar, shipping, customs etc.
IMPORTANT DISCLAIMER:
Our supplements are not drugs and are not intended to treat, cure or prevent a disease or injury. The information appearing on this website is not intended to be a substitute for professional medical advice. Results may vary. Please consult your physician for a complete list of indications, warnings, precautions, adverse events, clinical results, and other important medical information. You should not use this information to diagnose or treat a health problem, injury or disease without consulting with a qualified healthcare provider..